What: 13th Annual Nevada City Adventure
Where: 870 Gold Flat Road, Nevada City, California
When: June 1st, 2013 – 8:00am to 4:00pm
RSVP on Facebook Here
This is a FREE Event!
Featuring:
* Live Music
* $2 Lunch
* Car Show
* Scenic Driving Tour
* DYNO Testing
* Hourly Raffles
* Product Discounts
* Surprise Car Appearance
* Sprint Booster Demos on your own MINI
* Much more!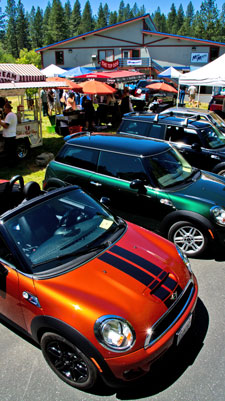 Come to the only Mini event that takes place in Gold Country, on the site of an actual Gold Mine from the 1800′s! In 1850 pioneers traveled thousands of miles in covered wagons to discover gold in the small mountain town of Nevada City.
On June 1st, 2013 people will travel in their MINI Coopers and Classic Minis from all over the west coast, not to find their fortune, but to attend Mini Mania's 13th annual Nevada City Adventure! This year's participants will find little gold, but there will be no shortage of chrome in these foothills!
We will take a tour down to an old gold mining camp, originally known as Indiana Camp, (settled by miners from Indiana in 1849), it is now known as the town of Washington. There we will stop at the Yuba River where you can try your hand at gold panning.
The six acre Mini Mania compound is set right on the old tailings of the historic Sneath & Clay gold mine just across the street (a few buildings still stand!) surrounded by majestic pines, blue skies and (hopefully) spring-like weather throughout the day.
Enjoy festive music while you relax in the shade of tall pines and enjoy the company of fellow Mini enthusiasts! (See below for local resources)
Nevada City is….
1 hour from Sacramento
1 hour from North Lake Tahoe
1 hour and 20 minutes from Reno, NV
Make a weekend out of it and take a MINI vacation!
This year's music will be performed live by Paige Anderson & The Fearless Kin!